Providing Innovative and Sustainable Solutions in
Energy Efficient Surface Aerators
Energy Efficient Surface Aerators
Save Energy by Installing New Generation of Environ Energy Efficient Aerators
SAVE 20% to 40% ENERGY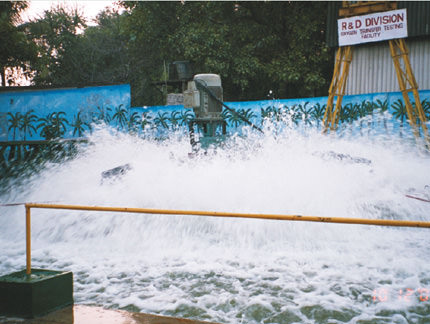 How Energy is Saved?
In any biological aeration system apart from oxygen transfer, mixing is also equally important.
The efficiency of the oxygen transfer along with the energy mixing efficiency of Environ Energy Efficient Aerators (EEEA) is more compared to the mechanical aerators available in the market.
Environ in their R & D facility had taken the trials of the oxygen transfer efficiency along with the mixing efficiency at different RPM of impellers & concluded that the suitable RPM of the aerator impellers for maximum oxygen transfer efficiency along with the maximum mixing efficiency can be achieved with 100 RPM impellers. So, EEEA impellers are provided with 100 RPM. The influence zone of the aerator impeller is also more in the case of EEEA. No other manufacturer in India is providing the aerators with 100 RPM.Secondly, the EEEA impellers are provided with Dual Impeller design. The functioning of the Dual Impeller is like :
'Environ' Make Energy Efficient Aerators
There are TWO Types of Aerators manufactured by ENVIRON:
1. Fixed Type Slow Speed Energy Efficient Aerators – From 2HP to 150 HTP ratings.
2. Floating Type Slow Speed Energy Efficient Aerators – from 2HP to 100HP ratings.
1. Fixed Type Slow Speed Energy Efficient Surface Aerators
Years of intensive Research & Development have accomplished the development of the 'Energy Efficient Aerator'. The result is a sturdy unit which combines high oxygenation efficiency (Oxygen Transfer Capacity ranging from 2.4 Kg. of O2 to 3.27 Kg. of O2 /kw/hr, depending upon 2 2 the size & atmospheric condition) with thorough mixing and propulsion of the influence to disperse the oxygen throughout the whole mass of the effluent zone and vigorous agitation to achieve the minimum ripple velocity to keep the solids in suspension. The entire design is amazingly so simple that it is very easy to install, to run and to maintain. It can be mounted on R.C.C. platform or on fabricated steel platform or on pontoons. Special Features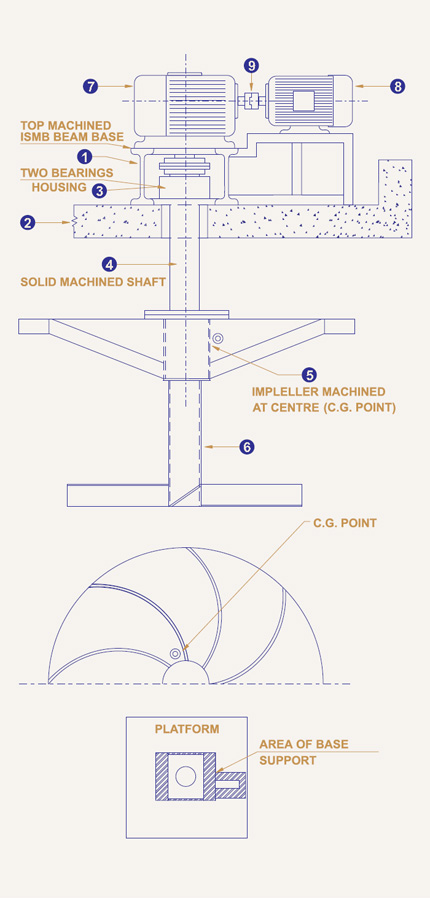 2. Floating Type Slow Speed Energy Efficient Aerators
They are sturdy, vibration less, having higher influence zone & can also cater higher depths as compared to High Speed Floating Aerators.
Special Features
Not affected by Hydraulic level variation in Aeration Tank, High Mixing rate alongwith higher Oxygen Transfer Efficiency. Easy to install, easy to operate & No RCC Platform required, hence quite economical installation. Flexibility of position change of Aerators & insertion of new Aerators for increased load in Aeration Tank, in case of expansion, without any change in Aeration Tank. These Aerators are also offered with Special Designed DUAL IMPELLERS for depths upto 5.5Mtrs. of Aeration Tanks & hence one can go for very compact Aeration System.
New Generation of Energy Efficient Aerators with Specially designed Impellers. Offered for SIDE WATER DEPTH upto 6.0 mtrs. Aeration Tanks.
Construction Features
Electric Motor, Gear Reducer, Base, Shaft, Impeller & Couplings are same of both types of Aerators (Fixed & Floating Aerators).
Floats
PU Filled FRP Lined (for 10HP & above ratings) ISO Resins are used in FRP Lining as standard OR SS-304, SS-316 Construction can also be provided, if required, with necessary hooks for mooring Nylon ropes.
N.B. :- Wetted Parts for both types of Aerators are Epoxy Painted / FRP Lined.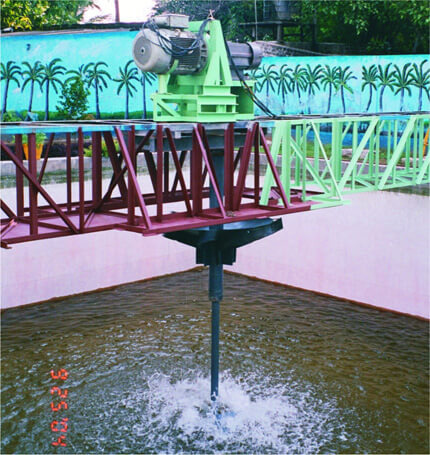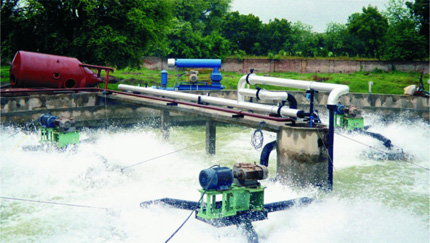 Inhouse Hydraulic Testing Facilities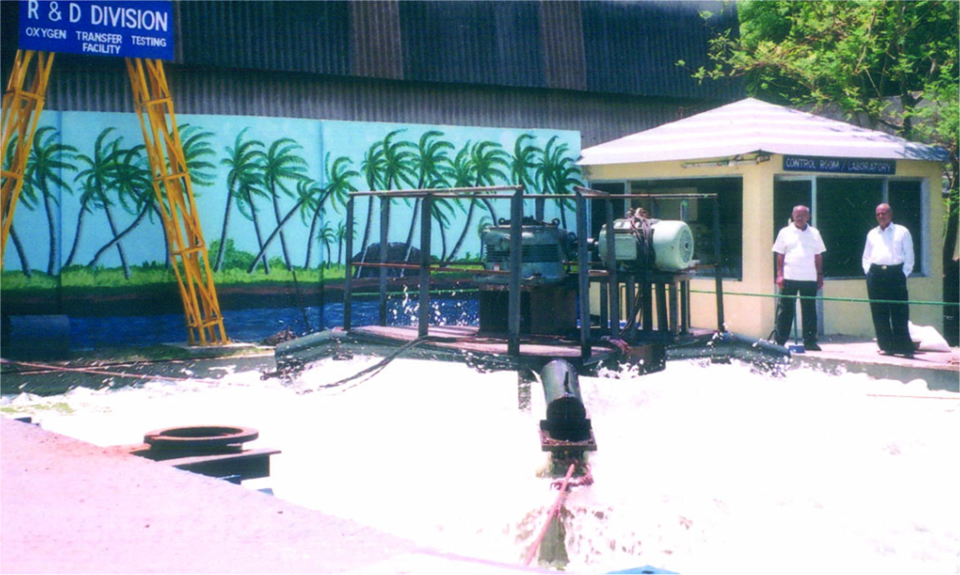 The company strongly believes in R & D and Quality Assurance & has gone for AERATORS TESTING FACILITY upto 150HP ratings right in the inception of the company's formation. Under our Quality Assurance Plan each & every Aerator & Agitator, which is manufactured, shop assembled are run for two hours in HYDRAULIC TESTING FACILITY before dispatch.
Oxygen Transfer Testing Facility (Unique in India)
ENVIRON is the only manufacturer in India, who have got the OXYGEN TRANSFER TESTING Facility as per American Standard & Wrinkler's Procedure. It can be offered at an extra cost, if asked for.
Oxygen Transfer Efficiency of our ENVIRON make ENERGY EFFICIENT AERATORS tested in our OXYGEN TRANSFER TESTING FACILITY as below :-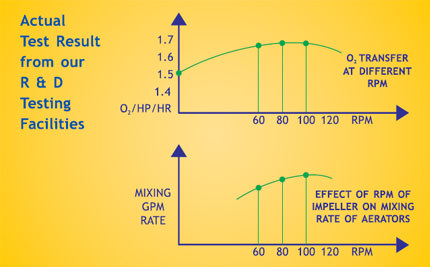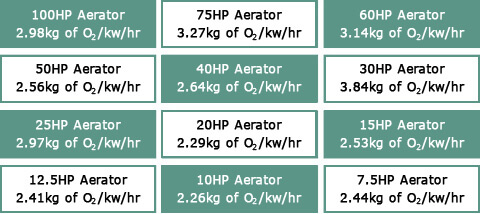 Installations at CETP / ETP With Energy Conservation By "ENVIRON" Energy Efficient Aerators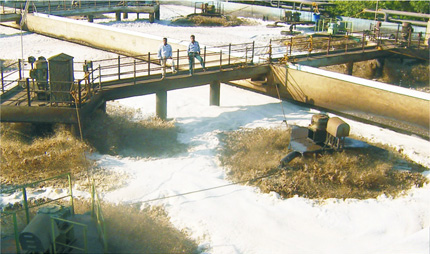 16 Nos. Floating Type ENVIRON Energy Efficient Aerators installed at Pattancheru CETP. (Stopped injecting liquid oxygen & saving in power also)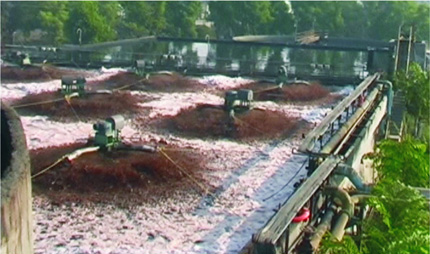 Replaced Diffused Aeration System with 9 nos. Floating Type 30HP ENVIRON Energy Efficient Aerators at Mahad CETP.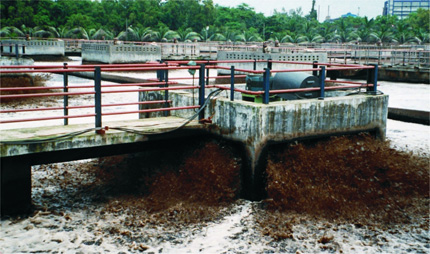 Replaced Diffused Aeration System & Fixed Aerators of other make at Vapi CETP with 20 nos. 40 HP ENVIRON Energy Efficient Aerators.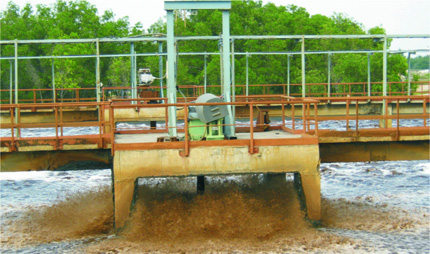 Replaced 75HP Existing Aerators of other make with 8 nos. 40 HP ENVIRON Energy Efficient Aerators at M/s. Tamilnadu News Print & Papers Ltd. – Kaghatipuram, T.N.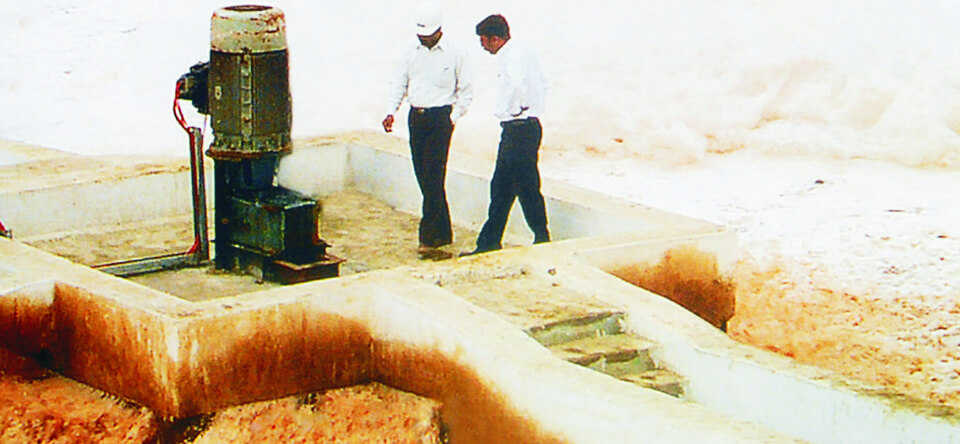 Economical Pollution Control Equipments
Our Humble contribution by way of manufacturing efficient environmental machineries, designed by foreign trained personnel having more than 50 years experience, at the most economical price and shortest deliveries for various industries.
Environ Engineering Company – Vadodara have also got the Oxygen Transfer & Hydraulic Testing Facility as per the International Standard to Test the Fixed & Floating Type Energy Efficient Surface Aerators upto 150 HP rating. It is a unique in India.